Those who called me a crocodile ARE crocodiles! — Dandy
Dandy the Devour Crocodile is a Water-type Legendz. He is friends with
Salamander
. He is also the owner of the Crocodile Cave Cafe. He doesn't like it when people call him a crocodile. He looks up to Shiron as his big brother.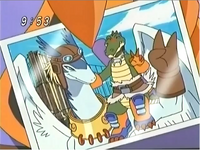 He first appeared in
Crocodile, Wait A While
.
Contrary to 'other' crocodiles, what sets Dandy apart is probably his bipedal behaviour, and his double tail. And he speaks human language.
Dandy wears a pair of orange and blue boots, along with orange gloves, brown shorts and a metal chain around his neck.
In the manga, Dandy appears as a contestant's Legendz at the Legendz Carnival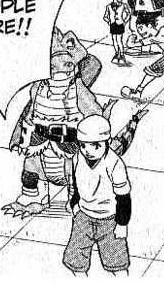 Ad blocker interference detected!
Wikia is a free-to-use site that makes money from advertising. We have a modified experience for viewers using ad blockers

Wikia is not accessible if you've made further modifications. Remove the custom ad blocker rule(s) and the page will load as expected.